How Cream City Music Ships Your Order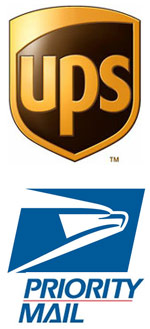 Items eligible for FREE shipping: Every order will ship free via UPS Ground or USPS Priority or First Class mail. Exceptions include addresses outside the contiguous 48 United States, and items that are restricted from free shipping by the manufacturer. Please refer to our shipping policy page for more details.
Cream City Music will ship to virtually ANYWHERE in the world: Cream City Music ships most orders with UPS, providing our valued customers with the comfort that comes with excellent point to point tracking information and full insurance on your purchase. At checkout we give you multiple UPS service options, each with an additional fee based on the weight and dimensions of the package. Before you complete your purchase you can calculate the exact cost for each option. If the item is eligible for free shipping, and you choose that option, the order will automatically ship with either UPS Ground or USPS (First Class or Priority Mail) depending on size and weight.
Cream City Music loves SAME DAY shipping: We know you want your gear and you want it fast and with minimal hassle! As such we strive to offer SAME DAY shipping on all orders that are received no later than 3:00 PM (CST). Because we fully inspect every instrument that goes out the door prior to packing this isn't always possible. We would rather your setup be perfect than to ship you a guitar that won't play like a dream when you open the case for the first time. If we are unable to ship your purchase the same day we will ship it the following business day.
Cream City Music LOVES International shipping: Cream City Music has the distinct honor of a broad client base from all over the world. We have shipped our products to nearly every corner of this great planet! We want you to know that whether you're in Europe, Asia, South America, Australia or beyond, we want to do business with you. Shipping quotes and prices do not include VAT or other import taxes which vary from country to country. Buyer is responsible for all import taxes and duty. Please contact your local customs office to determine what fees and taxes you will be assesed upon delivery into your country.
Manufacturer's Restrictions: Note that certain manufacturers put shipping restrictions on some products, including some products that cannot be shipped to international destinations. However, we often have used versions of those products available which can be shipped ANYWHERE in the world. Please contact us here to see if we have used stock available for you.
Tracking & Delivery Confirmation: After your purchase is completed, and as soon as the order is shipped, an email with a UPS tracking number or USPS delivery confirmation number will be sent to you to track the status of your shipment.
Delivery Time: Our standard shipping services, UPS Ground and USPS Priority Mail, deliver anywhere in the contiguous 48 United States within 1-4 business days.