Tommy Emmanuel Tells His Secrets Of How He Gets Those Beautiful Sounds Out Of His Maton Guitar!
Posted by Jason Klagstad on 18th Jan 2018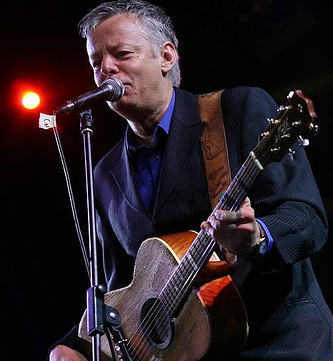 Two-time Grammy nominee Tommy Emmanuel is one of Australia's most respected musicians. The legendary guitarist has a professional career spanning five decades and continues to play with some of the finest musicians throughout the world. A household name in his native Australia, Tommy has won over hundreds of thousands of loyal fans worldwide. He was born into a musical family. "I've spent all my life from the age of four playing music and entertaining people. I never wanted to do anything else." He learned by ear alone and has never read music. By age 10, he and his family had played his way across Australia and became a "first call" session player in the 70s and early 80s playing on cuts by Air Supply, Men at Work and other popular Aussie bands. In 1980, he finally made a trip to the United States and met (and played with) his hero, Chet Atkins who took Emmanuel under his wing and introduced him to Chet's network of guitar legends. Today, Atkins' influences are evident throughout Tommy's music and personal philosophy. Emmanuel's technical precision, his virtuosic improvisations and broad repertoire – all pay homage to Chet Atkins' legacy.
Fact: Maton Guitars have been around as long as Fender Guitars, only in Australia. In March of 1946 the "Maton Musical Instruments Company" was born, headed by Bill May and his brother Reg. Bill was particularly interested in experimenting with woods native to his beloved Australia. Tommy Emmanuel (who bought his first Maton in 1959), The Finn Brothers, Paul Kelly, The Seekers and Colin Hay have all been seen on stage and television playing Matons. John Fogerty from Creedence Clearwater and Led Zeppelin's Jimmy Page and even the late Beatle George Harrison have played a part in spreading the word about Maton guitars. These are amazing instruments with a sound and legacy all their own.
We Ask Tommy Emmanuel Just How Does He Get Those Gorgeous Tones From His Maton
In early November of 2017, Tommy played the historic Pabst Theater in Milwaukee where Cream City Music caught up with him and asked him how he gets those stunning sounds out of his Maton guitar. According to Tommy himself, he has never written down or shared some of this information before.
Tommy's style – he calls it simply "finger style" – is like playing guitar the way a pianist plays piano - with all ten fingers. Rather than using a whole band for melody, rhythm, bass, and drum parts, Tommy plays all that – simultaneously – on one guitar. His complex guitar playing style requires that both guitar and guitar electronics respond to nuances in his finger style playing and Tommy must adjust them to each song to bring the most out of the song.
Here's what he says about setting his Maton preamp on his guitars while on tour:
"When I play songs like "Over The Rainbow", I don't use much mic at all...it's mostly pickup. Because I'm playing gently, I've got the pickup on 10. When I'm playing a normal tune like "Mombasa" or something like that, how I run my 808 (his Maton guitar) is, pickup on 10, the mic on 10 - that's what you do. This is how you get the sound. These pickups are designed to run flat out. If you put them at half mast, the signal doesn't sound as big. As soon as you put it on flat out, then you're going to hear EVERYTHING.
All I do when I play stuff like "Somewhere Over The Rainbow", I just bring the mids up a lot...and if you play it harder, it sounds bad because it's too much reverb but when you play it gently with reverb on it, it sounds amazing!
Make sure (in concert), if you're gong to have monitors and play through an amp, cover the (sound) hole. Move the internal mic (in Maton preamps), move the mic to the side towards the bridge away from the soundhole.
Cover the hole and crank everything up to 10. That's how you get the sound. I have three Matons on the road and the mics are different in each one of them. And that's on purpose...
I chose those mics...I'm always looking for the loudest microphone I can find.
But, I don't need a loud microphone in the low tuned guitar...where I play ballads and stuff like, "Those Who Wait" or "Somewhere Over The Rainbow" I don't need a lot of microphone. I need the guitar to sound rich and warm, deep and controllable.
But when I play stuff like "The Tall Fiddler", "Cowboy Dream" or "Angelina" I need the mic on 10. The other guitar that I have that I usually play songs in Drop D or Drop E - that's a TD Traditional or cutaway. The mic is real loud.
I run it flat out...it's beautiful. I have the pickup on 10 as well."
So we rushed back to Cream City Music to try out his tone secrets and guess what, we can make them all work...nowhere near as good as Tommy, but you can definitely tell how they affect the tone for harmonics and low tuning the guitar.
Here are the Maton guitars used by Tommy Emmanuel.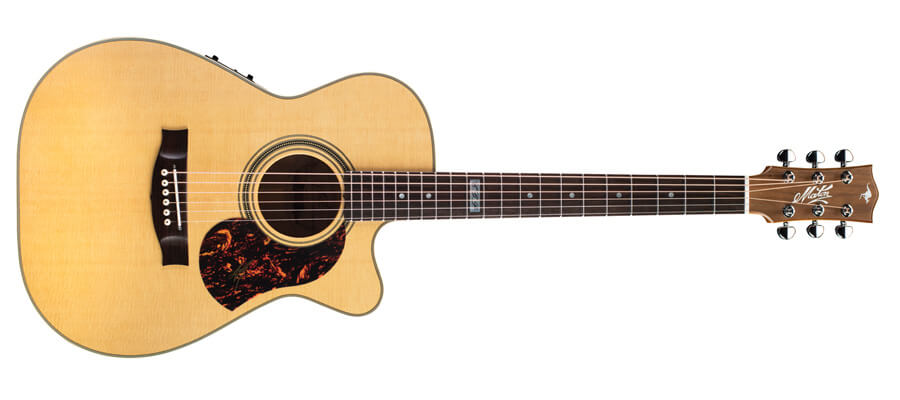 Cream City Music is a proud Maton Guitar dealer. We stock an extensive selection of Maton's and our knowledgeable staff would be happy to answer any questions you may have regarding these fine guitars. Please contact us via creamcitymusic.com or call us at 800-800-0087.